HIGHLIGHTS
TORQUE
295 lb.-ft. @ 5,100RPM
THE PROS & CONS
What's best: The power in this pocket rocket has to be experienced.

What's worst: The seats are very highly bolstered, making exiting the car a difficult chore.

What's interesting: Hyundai says this is the most powerful car on the market under $30,000.
Trust Hyundai to one-up the opposition— again.
This time it's with the 2015 Hyundai Genesis Coupe R-Spec model that sets a new standard as the most powerful car under $30,000 on the Canadian market.
A rear-wheel drive sports coupe, the Genesis comes standard with a tire-smoking, direct injection 348 hp 3.8-litre V6 engine — all for $29,499.
Hyundai calls the R-Spec the "enthusiast-focused" model and it is equipped to bring out the boy-racer in all of us.
While I'm well past the target demographic for this car, any enthusiast, regardless of age, will find it a fun, exhilarating ride.
R-Spec models arrive with a variety of high-performance features such as bucket seats with large side bolsters to keep occupants firmly in place during high-speed cornering. There is also an impressive Brembo brake package, Torsen-type limited slip differential, a sport-tuned suspension with ratcheted up spring rates and specially-tuned damping, along with 19-inch alloy wheels fitted with high-performance Bridgestone Potenza summer tires.
Interestingly, R-Spec is the entry level into the Genesis Coupe lineup — a departure from the norm as most automakers place their high-performance models up near the top of the food chain.
Not so with Hyundai, which has the more expensive Premium and GT levels for drivers in search of more upscale features and technologies.
2015 Hyundai Genesis Coupe Premium model ($32,199) comes with a power sunroof, HID headlamps, LED daytime running lights, heated front seats, proximity keyless entry with push button start, rear view camera, 10-speaker Infinity audio system and a seven-inch touchscreen navigation screen.
Move up to the GT model ($37,199) and more goodies are added such as more luxurious interior appointments.
All models come standard with a six-speed manual gearbox. An extra $1,800 gets you an eight-speed automatic transmission with paddle shifters on the Premium and GT models.
Few consumers would bat an eyelash if you were to tell them that the R-Spec is a value leader — after all Hyundai has built its reputation by offering vehicles that surpass expectations.
But most people, particularly American muscle car fans, would be amazed to learn that the 2015 Hyundai Genesis Coupe R-Spec also outmuscles cars like the base Chevy Camaro (323 hp 3.6-litre V6) and Ford Mustang (300 hp, 3.7-litre V6) on the horsepower front.
Similarly, the Scion FR-S and Subaru BRZ rear-drive sports cars fall well short in the power department with 200 hp and torque of 151 lb/ft.
The 3.8-litre V6 in the R-Spec and all Genesis Coupes for 2015 was only available on the GT model in 2014. It propels the car to a 0-100 km/h time in the low five-second range, according to Hyundai.
The limited slip diff helps out, ensuring power is equally distributed to the rear wheels.
The Genesis Coupe has undergone only minor changes since its debut as a 2009 model, although it received a facelift in 2013, notably with a revised front fascia.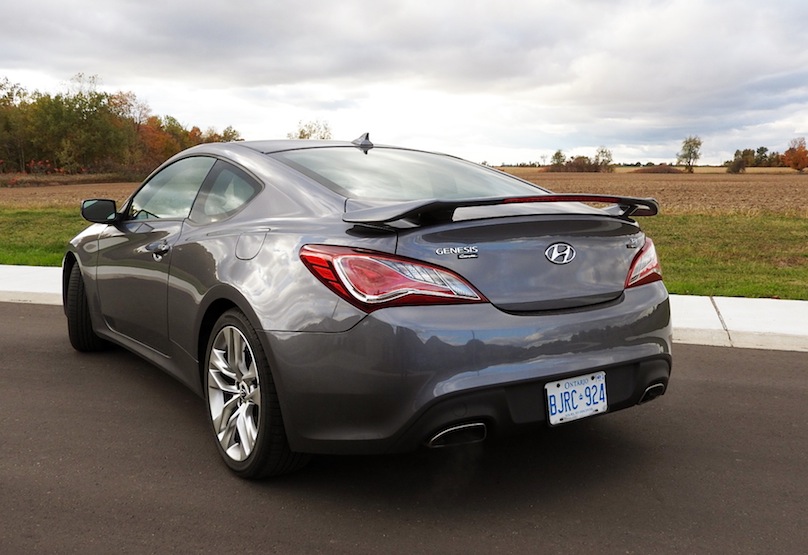 Styling wise, the 2015 Hyundai Genesis Coupe R-Spec has classic coupe proportions with a long hood, short rear deck and a wide, planted stance. Although an aging design, it still has a modern yet classic look.
Inside, there is seating for four and the look is more upscale than one would expect from a base model. The deeply bolstered seats are leather trimmed with a contrasting red stitching.
However, the dash and console appear a bit outdated with lots of plastic-looking materials.
Being an old-school guy, I love the buttons and knobs on the centre stack for the HVAC and audio system.
So simple to use and ergonomically correct. Gauges above the HVAC controls give readings for torque, oil temperature and real-time fuel economy.
The back seat is best reserved for children; adults only recommended for short, around-town jaunts.
Trunk capacity is 322 litres that can be expanded by folding down the rear seatbacks.
Natural Resources Canada Fuel Consumption numbers are 14.4/9.9/12.4 L/100 km city/highway/combined for the manual transmission and 14.6/9.6/12.3 for the automatic.
Since the R-Spec version is aimed at driving enthusiasts, the track-tuned suspension is on the firm side. For example, the R-Spec and GT front spring rates are seven per cent firmer than on Premium model and the rear springs are 11 per cent firmer.
Similarly, the steering is on the heavy side for a car of this size.
With its powerful V6 engine, rear-wheel drive and relatively lightweight of 1,628 kg (3,589 lb), the R-Spec can be a handful when you push it. But as a nod to the enthusiast, the R-Spec has a three-stage Electronic Stability Control (ESC) system.
On start up, the ESC is full on, while the intermediate setting disables powertrain override but retains ESC braking function. There is also a full-off ESC mode for the driver who wants to take part in autocross events or track days.
And that's a big part of what the R-Spec is all about.
It has its flaws, but there's a lot to like about this pocket rocket that's equally at home on the street or the track.
RELATED: 2015 Hyundai Genesis AWD Review
2015 Hyundai Genesis Coupe R-Spec at a glance
BODY STYLE: Compact sports coupe.
DRIVE METHOD: Front-engine, rear-wheel drive.
ENGINE: 3.8-litre V6 with gasoline direct injection (348 hp, 295 lb/ft of torque) with a six-speed manual transmission.
FUEL ECONOMY: 14.4/9.9/12.4 L/100 km city/highway combined.
TOW RATING: Not recommended.
CARGO CAPACITY: 322 litres.
PRICE: $29,499.