HIGHLIGHTS
TORQUE
332 @ 2,250 - 5,000RPM
THE PROS & CONS
What's Best: The power and that sweet gurgle from the exhaust.

What's Worst: The suspension is quite firm, but it's what's expected in a performance vehicle like this one.

What's Interesting: It's difficult to really know what to call this vehicle. Is it a hatchback, a crossover or a wagon? You take your pick.
The evolution of the automobile continues.
At one time the station wagon was king before the minivan cornered the market.
Next came the sport utility vehicle (SUV), which took the wind out of the minivan sales and created a new wave of people movers.
Then we started hearing about crossover utility vehicles (CUVs), which are basically SUVs built on car platforms.
From there it didn't take long for luxury SUV/CUVs to hit the market and now we have the high-performance luxury crossover.
Welcome to the world of the 2015 Mercedes-Benz GLA 45 AMG 4MATIC.
As most readers will know, AMG is the performance division of Mercedes-Benz, tasked with upping the performance quotient of various Mercedes models.
The 45 AMG sits atop the GLA-class food chain, joining the more docile GLA 250.
Based on the same platform as the B-Class and CLA compact, this is the smallest SUV in the Mercedes-Benz stable and brings the SUV lineup up to five, joining the G, GL, GLK and ML.
RELATED: 2015 Mercedes C-Class Review
While it is classified as a CUV, many would view the GLA as a hot hatchback, particularly with the AMG package.
The GLA 250 gets a turbocharged 2.0-litre four-cylinder engine, making 211 hp and 258 lb/ft of torque. Big-brother GLA 45 AMG meanwhile has power to burn with 355 hp and 332 lb/ft of torque, making it the most powerful series-production four-cylinder engine in the world, according to the manufacturer.
Both GLA models have the Mercedes-Benz 4MATIC all-wheel drive system and a seven-speed dual clutch transmission. The 45 AMG adds paddles and has a feature called launch control. We'll leave it up to you to guess what that's all about!
In the AMG version, the seven-speed tranny has been specially tuned for quicker shifts and better performance.
Meanwhile, the new 4MATIC all-wheel drive system operates in front-wheel drive mode until power is required. Then, drive torque is channeled to the rear wheels and distributed 50:50 front and rear.
The reverse process takes place just as quickly when drive torque is no longer needed at the rear, i.e. in a heavy braking situation when the ABS system is activated. Here, torque is reduced to zero.
Although the GLA 45 AMG has a 0-100 km/h time of just 4.8 seconds, don't think of it as just another hot rod.
Considering the performance level of the GLA 45 AMG, fuel economy is quite decent with numbers of 10.5/8.1/9.4 L/100 km city/highway/combined.
This is a vehicle that can also be a serious off-roader, although most buyers are unlikely to use it as such. With features like Downhill Speed Regulation (DSR) and an off-road transmission mode, the 45 AMG can transform from a grocery-getter to a Billy Goat.
Well that may be a bit of an exaggeration, but with DSR activated by a control button on the centre console, the system assists the driver on demanding downhill runs by maintaining a slow, manually selected vehicle speed. This is accomplished with the help of engine and transmission control systems as well as targeted braking intervention.
Inside, the GLA 45 AMG presents a sporty image with deeply bolstered front seats that keep you firmly planted during hard cornering manoeuvres.
I found the colour scheme of my tester a bit drab, but red stitching on the leather wrapped seats, door panels and steering wheel added a nice touch of colour.
There is room for four people with decent legroom for rear seat passengers.
The dual instrument cluster includes a 4.5-inch colour display screen with another 5.8-inch colour infotainment screen sitting atop the centre stack.
Cargo room is generous for a compact with 421 litres behind the second-row seats. The numbers jump to 1,235 litres with the seats folded.
Outside, there are AMG touches that set it apart from the GLA 250. Among them are 19-inch wheels and a lower stance that gives it a planted look. Of course, the AMG badges give it away that this is something special.
On the road, the GLA 45 AMG is a treat with a throaty sport exhaust that charms the senses of driving enthusiasts. The vehicle feels planted on the road, but the ride is on the firm side.
Of course, this is all about performance and the acceleration and handling are what one would expect from an AMG product— first rate.
Our tester was the GLA 45 AMG 4MATIC with both the Premium and Premium Plus packages. The Premium Package ($4,900) includes automatic climate control, a passive blind spot assist system, panoramic sunroof, rear view camera, navigation system and the AMG performance exhaust. Premium Plus ($2,900) adds a power tailgate, active parking assist, power folding exterior mirrors, auto-dimming mirrors and an upgraded surround sound system.
Add in $890 for Cosmos Black Metallic paint and the as-tested price comes to $59,190.
This is a fun vehicle for those who value personality and pizzazz in their driving machine.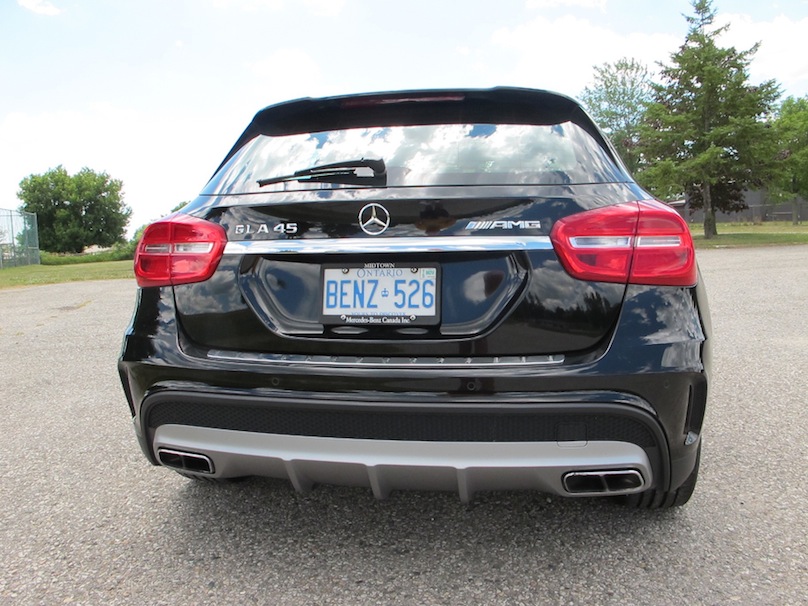 RELATED: Top 10 Mercedes-Benz of all-time
2015 Mercedes-Benz GLA 45 AMG 4MATIC at a glance
BODY STYLE: Five-door hatchback crossover.
DRIVE METHOD: 4MATIC all-wheel drive.
ENGINE: Turbocharged 2.0-litre engine (355 hp, 332 lb/ft or torque) with seven-speed dual clutch transmission.
CARGO CAPACITY: 421 litres behind second row; 1,235 litres with second row folded.
FUEL ECONOMY: 10.5/8.1/9.4 L/100 km city/highway/combined.
PRICE: $50,500, as tested $59,190.