2015 Nissan Micra S Review

The 2015 Nissan Micra S is the least expensive new car for sale in Canada today; but what exactly do you get for your $9,998?
HIGHLIGHTS
TORQUE
107 lb.-ft. @ 4,400RPM
There has been a lot hubub lately surrounding Nissan's release of the least expensive new car for sale in Canada, the 2015 Nissan Micra hatchback.
More specifically, that's the Micra S trim, because you take one step up to the SV trim, and that "least expensive" moniker no longer applies.
So, $9,998 before taxes is all well and good, but what do you really get for that sub-10K list price? Have we become so spoiled for features in our cars these days that something this stripped just won't work? Also, should a car this size be treated as something you'd want to deal with every day?
So we spent a week behind the wheel of the basest of the base in today's Canadian market to see what it's all about.
And boy, is it ever basic. I've tested a lot of cars in this profession, and I really don't know when I last saw a set of wind-down windows. Not since my own '92 Honda Civic sedan, so that's the first shock to the system. There are also steel wheel covers, a manual transmission with 5-speeds, manual locks and no air conditioning. You do get a trip computer, though. Which is nice.
Really, though, the only truly inconveniencing aspect of these are said manual locks. The fact you have to manually unlock each door and the hatch is frustrating. A single unlock/lock on the driver's side should be enough to perform the action on all locks. Instead, you're reduced to either going to the door yourself or contorting yourself, Romanian gymnast-style, to reach each lock from inside. Maybe we've discovered a new form of exercise; I call it "unlock yoga."
After that, though, I'll happily deal with the rest. Yes, any issues you may have with wind-down windows are compounded by the fact there's no A/C but that is something that many could get used to if it means being able to acquire a car for this price.
Plus, once you take a seat and just focus on the aspects most important to vehicle ownership—seat comfort, outward visibility, seating position—the Micra ethos starts to come in to focus.
Firstly, the seats are very good; compare them to the items found in, say, a 2015 Toyota Yaris, for example, and you'll find them to be more padded and supportive. The bottom cushion is small, however, meaning taller drivers may not get the upper thigh support they'd like.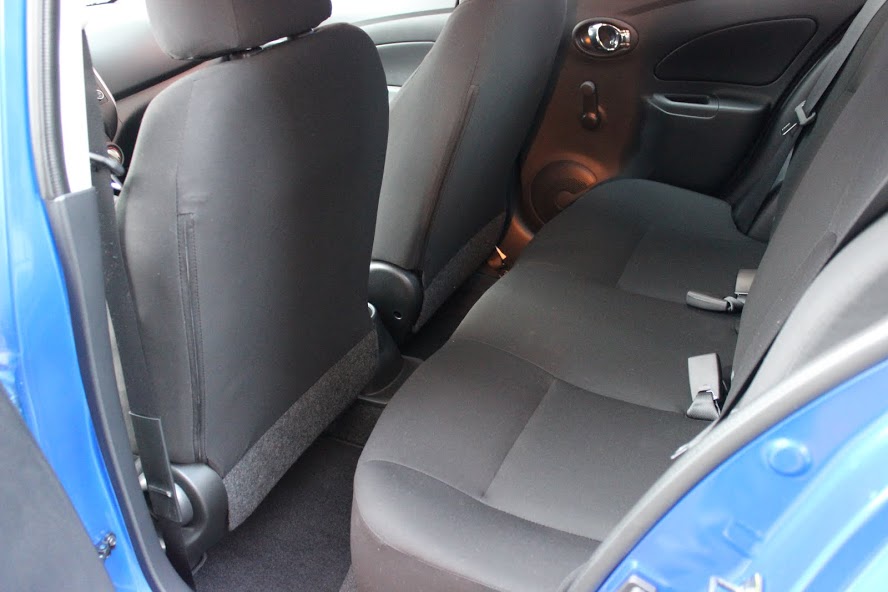 Most of the Micra's windows are quite large, so you get a nice view outwards, compromised only by a smallish rear window. You can adjust the height of the steering wheel, but not the reach, meaning taller drivers may once again be at a disadvantage. That being said, since the Micra is such a small car, the reach issue is no deal-breaker for me, and I'm 6'3".
Even the back seats aren't too bad—there's more legroom (860 millimeters) than there is in a Yaris (847 mm), more headroom (976 mm) than there is in a Honda Fit and it equals the Fit's front legroom (1,051 mm) of which the Yaris has less. The front legroom figure is an important one in this segment, because chances are, the front seats are going to be in use a whole lot more than the rears. In fact, you may just want to keep those rear seats folded, which makes for 819.5 Litres of cargo space. Even if you leave them deployed, you should have no trouble fitting a hockey bag cross-wise into the deep rear cargo area. That's pretty impressive.
Power from the Micra's 4-cylinder comes in at 109 horsepower and 107 lb.-ft. of torque, and while it sounds buzzy (a friend commented that he felt like we were riding a ride-a-mower) and gets a little wheezy at highway speeds, it's zippy enough in town, made even more so by that manual transmission.
Related: Nissan Micra 2015 Krom Special Edition Release
Ahh, the transmission. Manual is your only option at this level; $3,300 gets you a four speed auto—Nissan's' Continuously Variable Automatic is not an option—which is a bit of an issue. That's a third of the cost of the entire vehicle just to get an auto, and a four-speeder at that.
It's there that all that goodness we've been talking about takes a hit. That's a lot of money for an auto, and when you consider that this is a vehicle meant to perform well in-town above all else, the benefits of an automatic become that much more evident. Not to mention that for over 13 grand, you can turn to the used market and get a well-equipped Altima with about 100,000 kilometers on the clock.
If you can deal with that manual transmission though, the Micra becomes an absolutely tempting proposition. It's spacious, economical (we saw 7.4 L/100 km in the combined cycle), looks sharp from most angles (the front end's a little bulbous) and a fun drive if you look past the lowly hp count. Heck, spend an extra $500 to procure a back-up cam, 4.3-inch colour display and USB iPod connectivity, and your Micra will be right up there tech front with the rest of the class.
Then, you take into account that Nissan is offering a range of incentive programs for students and first-time buyers, and you'll see how Nissan sold almost 8,000 of these in 2014.