2016 Infiniti QX50 Review
What's Best about the 2016 Infiniti QX50 is it's first-class cabin materials and quiet running
THE PROS & CONS
What's Best: First-class cabin materials and quiet running.

What's Worst: Price jumps dramatically as options are added.

What's Interesting: One of the first ever compact luxury CUVS, Infiniti has kept pace with competitors in one of the hottest segments in the world.
The 2016 Infiniti QX50 at a glance:
BODY STYLE: Compact luxury crossover
DRIVE METHOD: Full-time all-wheel-drive with seven-speed automatic transmission
ENGINE: 3.7-litre 24-valve DOHC V6 (325 hp and 267 lb/ft of torque)
FUEL ECONOMY: (Premium recommended) 13.7/9.7/11.9L/100 km (city/highway/combined)
CARGO: 527 litres
PRICE: Base at $37,900; Premium, $42,800; Premium, Navigation, $45,300 and Premium, Navigation, Technology, $47,800.
SAN DIEGO, CA: Infiniti describes the 2016 QX50 has having "the body of a crossover, the heart of a coupe."
Infiniti was one of the first to recognize the growth potential of the small, luxury SUV segment, which has mushroomed in Canada from about 15,000 sales in 2007 to a projected more than 50,000 this year.
It features revised exterior styling with the inclusion of LED fog and running lights and an updated take on the signature "double arch" grille, new door mirrors with LED turn flashers and a new bumper with rear valance panel. The standard wheel is an 18-inch aluminum or model specific five-spoke 19-inch aluminum wheel.
But it is the interior where the enhancements are most noticed, with wonderfully supple leathers and tight panel and trim fits throughout.
The 2016 Infiniti QX50 is 80 mm longer and 20 mm higher with rear passengers reaping the benefit of 109 mm greater legroom.
While there is a front-drive version in the U.S., all Canadian models have Infiniti's Intelligent All-Wheel-Drive with a rear-drive bias that routes up to 50 per cent grip to the front wheels as needed.
I drove both during the press launch in San Diego that saw us taking the freeway east and then up into the hills and to the charming town of Julian.
Thanks to the southern California climate with its pristine pavement devoid of potholes and frost heaves, the ride quality really showcases the efforts by Infiniti to create one of the quietest cabins in its segment.
On the freeway, for example, there seemed to be no wind noise even at an indicated 65 mph. There was some tire intrusion that seemed less on the FWD version, which I put down to the larger 19-inch alloy wheels on the AWD model.
The surprising part, my co-driver agreed, was how well the QX50 transitioned from side to side through tight switchbacks with negligible body lean, despite sitting higher (20 mm higher that the outgoing model) off the road than a the previous model.
The QX50 platform is based on a coupe with the engine behind the front wheel centerline, which really helps position the weight between the two axles.
We also agreed the FWD felt a tad sharper in the twisty bits that was probably due to the AWD adding about 200 lb to the overall curb weight.
RELATED: 2015 Infiniti Q50 Review
Standard content has been increased for 2016 and now includes leather seats that are heated up front, Intelligent Key with Push Button Ignition, SiriusXM Satellite Radio (SiriusXM subscription needed), Bluetooth, backup camera, eight-spoke 18-inch aluminum-alloy wheels and a power sliding tinted glass moonroof.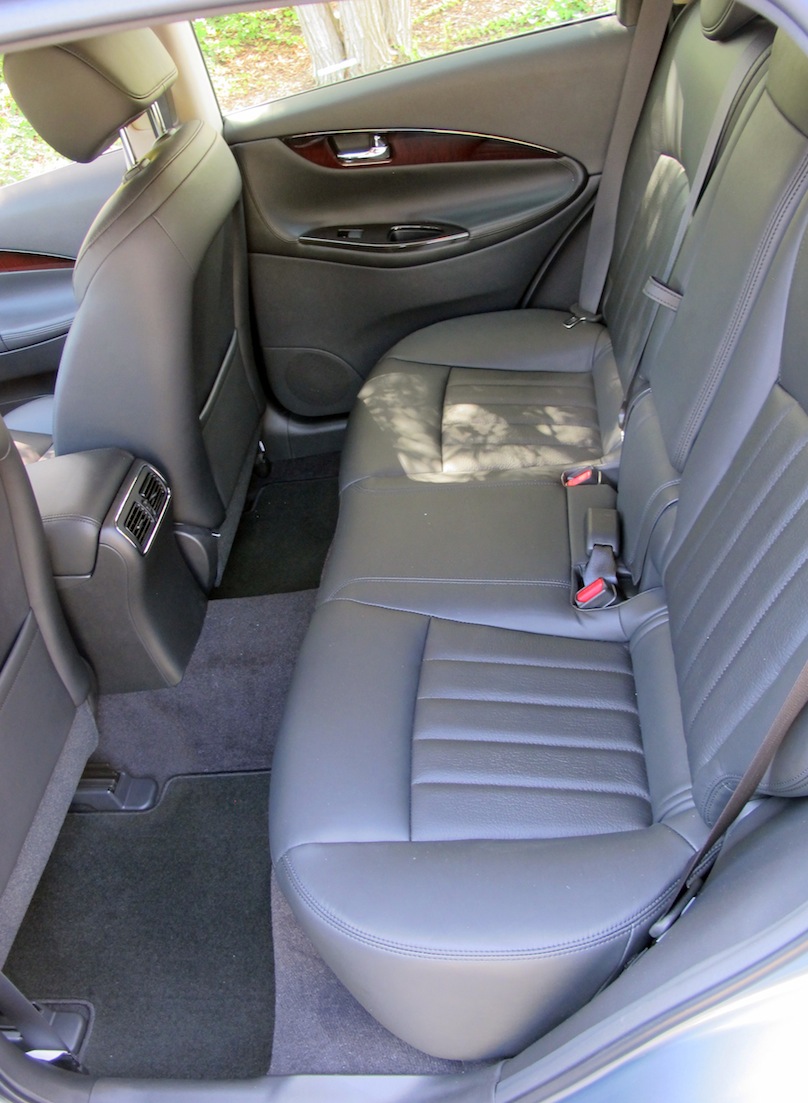 Depending on trim level, optional items include Adaptive Front Lighting System (AFS) with auto-leveling headlights, Maple interior accents, driver's seat headrest coat hanger, Bose Audio System with 11 speakers, Advanced Climate Control System (ACCS) with Plasmacluster air purifier, power up-folding second row seat and 19-inch wheels and tires.
Technology abounds with a host of items, again depending on trim level, that include Infiniti Hard Drive Navigation System, Blind Spot Warning (BSW) system, Around View Monitor with Front and Rear Sonar System, Lane Departure Prevention system (LDP), Intelligent Cruise Control (Full-Speed Range), Distance Control Assist (DCA) and Intelligent Brake Assist (IBA) with Forward Collision Warning.
I had forgotten Infiniti was the first to offer a 360-degree surround view camera system.
The model I drove in the afternoon was the fully loaded Premium Navigation Technology AWD model and I was very happy for the Forward Collision Warning system when the car in front braked hard for a coyote running across the road.
The Infiniti navigation system remains one of the best in the business, because its intuitive design makes it simple to operate without a needless rotary HMI (Human Machine Interface) knob down on the centre console, where you can't see which buttons to push to make selections.
Overall interior volume has been increased by 234 litres with cargo volume at 527 litres, which is made easier to access thanks to a claimed first-in-class optional power fold-up rear seat.
A nifty extra is a coat hanger integrated into the back of the driver's seat – a class exclusive.
Power comes from a 3.7-litre DOHC V6 with 325 hp and 267 lb/ft of torque along with a seven-speed automatic transmission with downshift rev matching, adaptive shift control, and sequential manual shift with a Sport Mode.
Fuel rating is estimated at 13.7/9.7/11.9L/100 km city/highway/combined with premium gas recommended.
There are four trim levels with starting prices with the Base at $37,900; Premium, $42,800; Premium, Navigation, $45,300 and Premium, Navigation, Technology, $47,800.
Infiniti has been a leader in the compact luxury SUV segment from the get go and with the 2016 QX50 Infiniti is well on the way to keeping that status.
RELATED: 2015 Infiniti QX80 Review