2016 Nissan Altima Review
The 2016 Nissan Altima feels, looks and rides like a full-size sedan.
THE PROS & CONS
 What's Best: Big improvement in handling, exterior and interior styling.

What's Worst: Nothing much.

What's Interesting: Altima feels, looks and rides like a full-size sedan.
2016 Nissan Altima at a glance
BODY STYLE: Compact sedan
DRIVE METHOD: Front-engine, front-wheel-drive, mated to a CVT with manual shift mode
ENGINE: 2.5-litre DOHC V6 (182 hp, 180 lb/ft of torque); 3.5-litre DOHC V6 (270 hp 252 lb/ft)
FUEL ECONOMY: (Regular) 2.5-litre, 8.7/6.0/7.5L/100 km city/highway/combined; 3.5-litre, 10.3/7.4/9.0L/100 km
CARGO CAPACITY: 436 litres (15.4 cu ft).
TWO RATING: Not recommended
PRICE: TBA
PLYMOUTH, MI: One of Canada's most popular mid-size sedans, the 2016 Nissan Altima, is getting a new look and many improvements for this year.
The most noticeable is the adoption of Nissan's "Energetic Flow" design language which premiered on the Murano CUV, then the full-size Maxima and now the Altima.
It starts with the front end where all the panels from the A-pillar forward are changed, with the look centred on the V-Motion signature grille and boomerang-shaped headlights with halogen high beams, projector low beams and LED running lights.

The rear is also totally changed with the boomerang taillights and sculpted bumper.
The overall effect is more than just visual. The shape has resulted in a lowering of drag from 0.29 in the 2015 Altima to 0.26 on the 2016. Much of this is due to active grille shutters and an underbody aero cover.
On the inside, styling changes start with the "Gliding Wing" instrument panel design. Shaped like the outstretched wings of a gull, it features a revised centre stack with five- or seven-inch displays for the NissanConnect system, with mobile apps or optional NissanConnect Navigation with mobile apps.
Apps include Online Search powered by Google (navigation equipped vehicles only), Facebook and others with the ability to add new apps at any time.
The optional system includes a 3D-effect map views, Nissan Voice Recognition, and turn-by-turn navigation. Other navigation features include speed limit display, eco driving maps, curve warning and split-screen display. It also includes SiriusXM Traffic (SiriusXM subscription required, sold separately).
The standard Zero Gravity front seats have been recontoured with a new woven cloth. It's a little thing, but buyers asked for, and Nissan now provides, centre console cupholders that accommodate mugs with handles.
On some models, interior trims include a very nice blonde wood look.'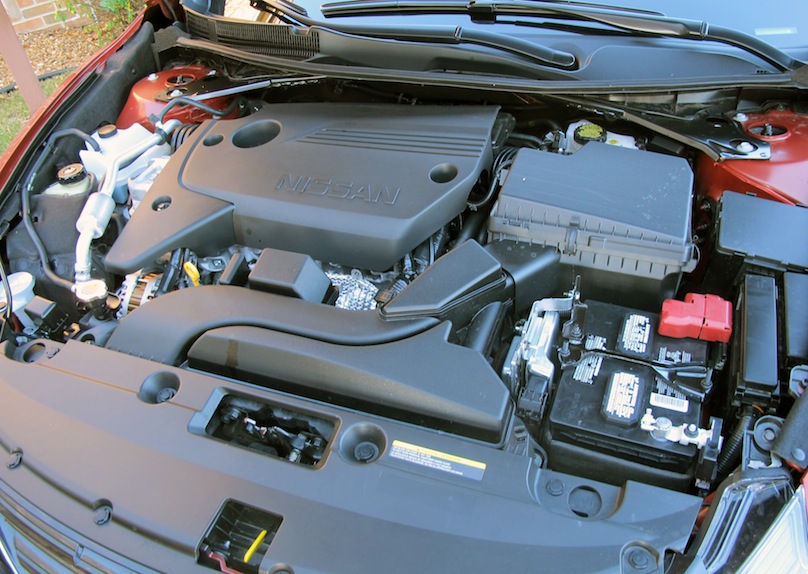 Most of the Altima trim levels will be powered by Nissan's familiar 2.5-litre twin-cam four-cylinder engine producing 182 hp and 180 lb/ft of torque. The other engine is a 3.5-litre DOHC V6 with 270 hp and 251 lb/ft of torque.
RELATED: 2016 Nissan Maxima Review
All Altimas are front-engined with a CVT transmission driving the front wheels. Both engines run on regular fuel.
The 2.5-litre's fuel rating is 8.7/6.0/7.5L/100 km city/highway/combined with Nissan claiming best economy in class. The 3.5-litre's consumption is 10.3/7.4/9.0L/100 km.
Cargo volume is 436 litres (15.4 cu ft). Towing is not recommended.
A lot of work went into the front MacPherson strut and rear multi-link suspension with the new Altima benchmarked against European sports sedans, the first result of which is the switch to ZF Sachs shocks with thicker stabilizers bars. At the rear, there are tauter springs and suspension bushings.
Tires are also new with an increase in tread stiffness, sidewall stiffness and a higher grip compound.
Next Nissan added what they call their Active Understeer Control system, which combines intelligent control logic and high-response brake actuators to lightly brake the inside wheel in a corner. Because it operates with the electronic stability control and traction control, the effect is almost undetectable.
The other benefit of this is more lateral grip, resulting in improved predictability with the brakes giving the driver 10 per cent shorter stopping distances.
The 2016 Altima will be offered in six models, five with the 2.5-litre (2.5, 2.5 S, 2.5 SR, 2.5 SV and 2.5 SL Tech) and the 3.5 SL Tech. Pricing is yet to be announced.
New for 2016 is the SR that includes a sports tuned suspension with dramatically larger stabilizer bars (258 per cent stiffer at the rear) and a "Manumatic" shift mode on the CVT with standard paddle shifters.
Tested here is the 2.5 SL Tech, which should prove to be the volume model.
It came with a beige and black interior with blonde wood effect trim making for a warm and inviting cabin with a beige steering wheel with metal trim on the spokes where the audio and cruise controls are placed.
The "Zero Gravity" seats designed with data gained from NASA are firm but not hard, therefore good for long journeys. Gauges are all large and there are still rotary knobs for the heat/cooling, which are great in the winter to move with gloved hands.
The actual drive route was too short to gauge any firm driving impressions, but there was a noticeable feeling of this being more like a German sports sedan than Altimas that have gone before.
The Altima slides in nicely as part of Nissan's plan to increase market share, which they have done quite successfully with 26 consecutive months of growth.
Nissan sales over the past two fiscal years are up 51 per cent and Infiniti up 19 per cent, with the big news being an increase in market share from 4.8 to 6.3 per cent.
Now with Altima about ready to arrive in Canadian showrooms, it looks like Nissan will continue on a roll.
RELATED: 2015 Nissan Murano Review