THE PROS & CONS
What's Best: Segment-leading Multi Terrain Select sets a new level of intermediate pickup truck on- and off-road capability.

What's Worst: Legroom at a premium.

What's Interesting: Standard GoPro mount on the passenger inside windshield.
SEATTLE, WA– Buried in sand up to the axles, I watched in amazement as the 2016 Toyota Tacoma literally dug itself out.
It was using Toyota's new Multi Terrain Select (MTS) with computers, engine and advanced traction control doing the job automatically. All the driver had to do was steer.
MTS sets a new level of "go anywhere" ability, and not in a dedicated off-road SUV, but in a mid-size pickup truck.
Mike Sweers is the chief engineer on the new Tacoma. His wife, daughter and he all drive Toyota pickups and he said his family and customers, value "knowing they can get there and get back."
If there is one thing I have learned over the years about going off-road, it's to avoid sand at all costs.
I will always remember one of Canada's most respected autowriters parking a SUV from another Japanese maker out on the beachfront of a Pacific Coast hotel where we were staying to get some dramatic, end-of-the-day photos.
Problem was, he drove onto wet sand, and as he got out and lifted his camera, the truck sunk down to the axles as the tide started to roll in.
Frantic calls for help finally resulted in the SUV being extricated just as the waves started lapping at the rocker panels.
With MTS, that probably wouldn't have happened.
RELATED: 2016 Toyota Tacoma Sneak Peek
The system is centred on a panel above the windshield with a "MTS" button on the left, a "Crawl" button on the right and a five position rotary knob in the centre which governs degrees of power delivery.
Press MTS and a 4.2-inch TFT display in the mail gauge cluster offers a choice of Mud & Sand, Loose Rock, Mogul, Rock & Dirt and Rock.
There is also a dial with the choice of 2WD, 4H and then 4Lo, which calls for a shift into neutral before engaging.
And then there is Crawl, which is astounding.
At a dedicated off-road park east of Seattle where the press launch of the Tacoma was held, there were places dubbed Double Drop, Devil's Boneyard and Rocky Top, but there was one path with a 41 per cent incline.
With the truck in Crawl and the rotary knob on position two, we were told to touch neither brake nor gas and let the Tacoma do the thinking and doing.
Ascending was like looking straight up to heaven with no visible objects like trees or rocks to get a bearing, just an instructor shouting to turn left or right.
Then there was coming down, which looked like a solid wall directly below.
Everything in my being said don't do this, and I confess, I let my co-driver take over because I was just too scared.
Needless to say the truck did it, actually about four times for the video people, but it demonstrated abilities far beyond my own.
When the 2016 Tacoma arrives in the fall, it will have two engines, starting with the well-known 2.7-litre, inline four-cylinder with 159 hp and 180 lb/ft of torque.
By far the most important engine is a new 3.5-litre V6 (278 hp, 265 lb/ft) that can run on either Atkinson Cycle or Otto Cycle.
How it works is the Atkinson Cycle is used most of the time because it is more efficient on gasoline. But, when more power is needed, it switches seamlessly to the more traditional Otto Cycle.
Fuel consumption ratings and pricing had not been released at this writing.
There are two cab versions – Access and Double. There is no Regular cab model.
While there are eight powertrain versions, the only 4×2 version is the base with 2.7-litre with five-speed manual transmission. The rest are all 4X4 with a choice of six-speed manual or six-speed automatic transmissions.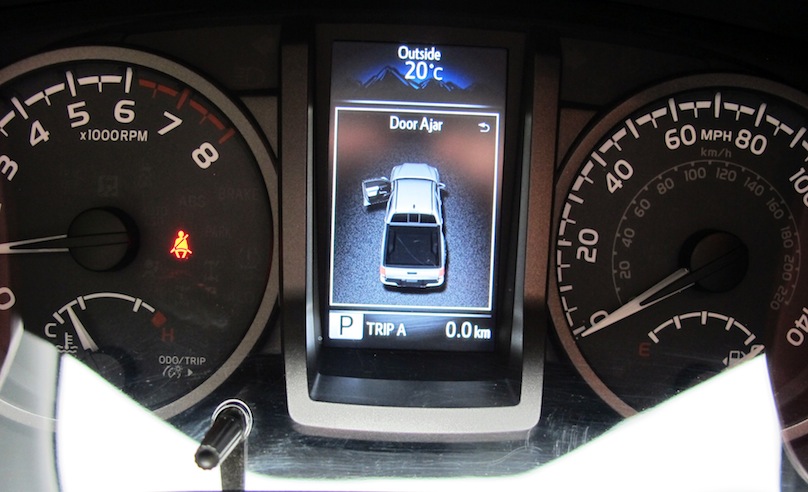 And to add to the confusion there are five Access and three Double Cab models.
Toyota Canada expects 74 per cent of sales will be the V6 Double Cab 4X4.
Towing is up to 6,500 lb with a payload of up to 1,620 lb. The bed is composite with numerous tie-down options, plus a 120-volt grounded power outlet at the right rear of the bed.
There are now eight exterior colours. The interior is much changed including a new instrument panel with an elongated lozenge shape that houses a large infotainment screen.
Toyota engineers spent a lot of time on aerodynamics to help with fuel economy and managed to reduce overall drag by 12 per cent under the outgoing model.
They did this in several ways, such as with a front air dam that doesn't impede on approach angle off-road, a rear tailgate spoiler and a rubber baffle between the cab and bed to stop air seeping in.
There's so much more to the Tacoma, but I'm going to wait for a full week road test in the dead of winter putting MTS to a true Canadian test.
And, no, I won't be trying any 41 per cent inclines.
RELATED: 2015 Toyota Highlander Review
2016 Toyota Tacoma mid-size pickup at a glance
BODY STYLE: Body-on-frame mid-size pickup
DRIVE METHOD: front-engine, rear/all-wheel-drive.
ENGINE: 2.7-litre DOHC inline four-cylinder (159 hp and 180 lb/ft of torque); 3.5-litre DOHC V6 (278 hp, 265 lb/ft); Five-speed manual (4X2 model only), six-speed manual or five-speed automatic with sequential shift
TOW RATING: 2.7-litre, 1,587 kg (3,500 lb); 3.5 litre, 2,948 kg (6,500 lb)
PAYLOAD: 2.7-litre, 680 kg (1,500 lb); 3.5-litre, 578 kg (1,275 lb)
FUEL ECONOMY: (Regular) TBA
PRICE: TBA