THE PROS & CONS
What's Best: Ridgeline is now more pickup than a CUV with exceptional interior volume and amenities.

What's Worst: Crossover based chassis restricts Ridgeline to one bed length.

What's Interesting: On some models the truck bed can be configured into a 400-watt sound studio and an AC plug in the bed wall means you can plug in a big screen LCD TV if for like for a tailgate party anywhere.
SAN ANTONIO, TX: When it comes to pickup truck "wow" factors, Honda may just have re-set the bar with the bed on the 2017 Ridgeline that can be turned into a 400-watt loudspeaker.
On the top two of the five trim levels there is 150/400-watt AC inverter at the right rear of the box that powers "exciters" that are speakers but without a membrane.
Instead there is an "oscillating mass" in the unit, which can be attached to most surfaces. When the oscillating mass starts shaking with the frequency of the applied signal, it is transmitted to the mounting plate and from there to the surface where it is attached. That, in turn, causes the "excited surface" to emit a voice or music signal.
To show how it works, Honda set up a tailgate party, first cooking up a batch of chili via the AC outlet and then following up with sound and a big screen LCD TV. Think of the possibility of a party on wheels.
But wait, there's more.
COMPETITOR: He said/She said – 2016 Chevrolet Colorado
The Ridgeline is based partly on the Pilot crossover and with that unibody architecture; Honda was able to create a lockable storage well below the box floor and behind the rear suspension that is big enough to swallow golf bags.
The bed is five-feet, four-inches long and comes with eight tiedowns. The tailgate can either flip down or swing out like a door. The tailgate even has two moulded-in seats.
Inside, Honda is claiming best-in-class passenger volume, most rear seat cargo and most rear seat versatility.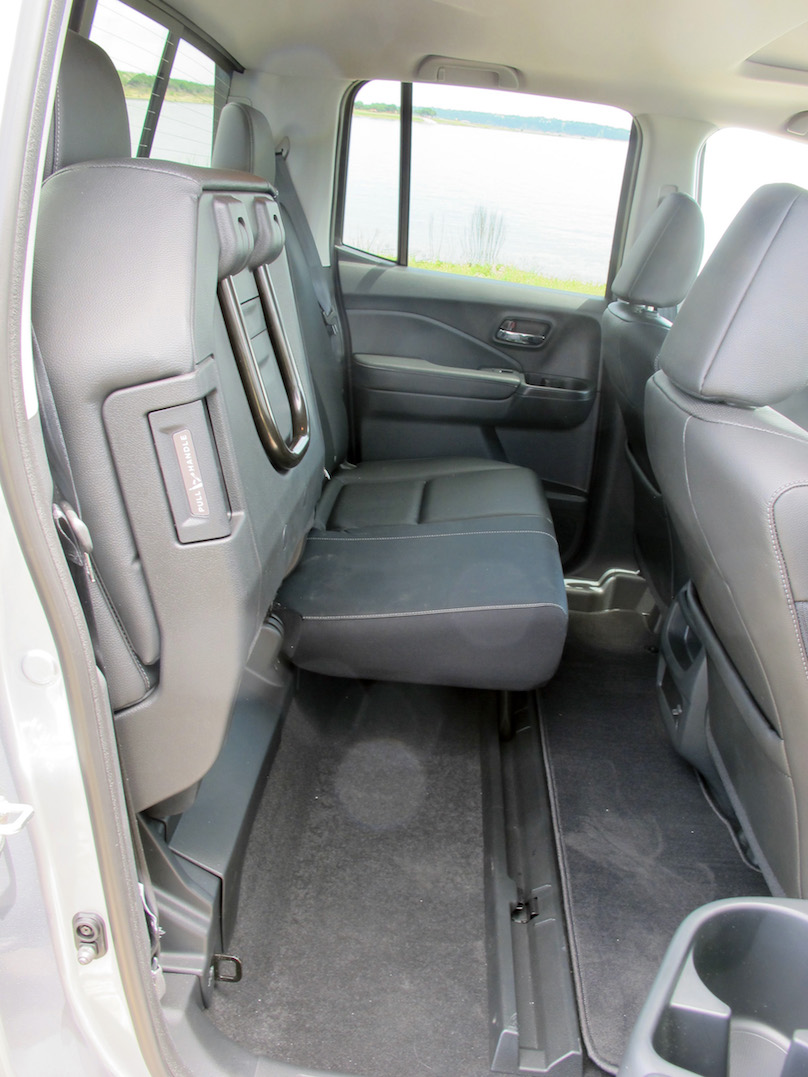 This is the second-generation model and much has changed, including the styling where it now looks more like a pickup with a vertical back window that also increases bed size because the buttresses from the first generation are gone.
The front MacStrut and rear multi-link suspensions are all new and the Pilot-based platform has more than 50 per cent re-engineered parts to meet the more demanding tasks a pickup is asked to accomplish.
All Ridgelines are powered by Honda's proven 3.5-litre V6 SOHC direct injection producing 280 hp and 262 lb/ft of torque with a six-speed automatic transmission. All Ridgelines in Canada come with Honda's Intelligent Variable Torque Management system, which is Honda-speak for all-wheel-drive with the added bonus of torque vectoring for the best possible grip in corners or on less than ideal surfaces.
Running on regular fuel, consumption is rated at 12.8/9.5/11.3L/100 km city/highway combined.
Perhaps the most compelling feature is its rear-mounted AWD unit consisting of two wet clutches that make it possible for torque to go up to 70 per cent rear and also side to side on the back for grip that does not have to rely on supplementary braking.
Where the system really shines is in the four, driver selectable modes – Normal, Snow, Mud and Sand.
At the Ridgeline press introduction outside San Antonio, Honda set up several exercises including towing, acceleration and off-roading against competitive mid-size pickups.
On the off-road portion, I drove through sand, forded streams, went up and over hills to test hill holding and drove at speed over a washboard surface and all in "Normal" which surprised me.
But what stood out was the torque vectoring. On sandy soil the instructor told me to take it up to 50 mph on a corner and hold it, where usually by 30 mph I would have been already on the brakes.
Not only was the rear not even close to stepping out; I actually was able to accelerate through the apex with full control.
Honda has kept the towing limit at 5,000 lb with a seven-pin connector and the payload is 1,584 lb. Trailer Stability Assist is standard.
Standard equipment is extensive, including heated front seats and outside mirrors with wiper de-icer, Apple CarPlay or Android Auto, HondaLink emergency response system, and most important, the Honda Sensing suite of safety systems, which is one of the most comprehensive in the industry.
It is also one of the quietest trucks I've driven to date with only a whisper of noise coming from the tires, which, I found out, are specially made by Firestone for the Ridgeline to combine high performance in all weather conditions and loaded handling as well.
The 3.5-litre is up to the job in terms of acceleration when passing on the highway, but you must remember Ridgeline is heavier than a crossover so you shouldn't treat it like one, especially with a full bed or at the tow limit.
The Ridgeline is not a working pickup but it fills an interesting niche for an owner who wants the drivability of a car but more utility than a crossover.
Ridgeline is also interesting in that it is one of the first of the 96 per cent of vehicles Honda plans to replace between now and 2019.
Thus Ridgeline sets the stage for good things yet to come from Honda.
COMPETITOR REVIEW: 2016 GMC Canyon diesel, Mid-size pickup with full-size power
Honda Ridgeline pickup 2017 at a glance
BODY STYLE: Mid-size pickup.
DRIVE METHOD: Front-engine, all-wheel-drive with six-speed automatic transmission
ENGINE: 3.5-litre SOHC direct injection V6 (280 hp, 262 lb/ft)
FUEL ECONOMY: (Regular) 12.8/9.5/11.3L/100 km city/highway combined
CARGO: (Rear seat folded up) 50.2 cu ft
PAYLOAD: 1,584 lb
TOW RATING: 5,000 lb (2,267 kg)
PRICE: Base LX, $36,590; Sport, $39,590; EX-L, $42,590; Touring, $47,090; Black Edition, $48,590
WEB SITE: www.honda.ca