THE PROS & CONS
WHAT'S BEST: This mid-cycle refresh gives the Sentra a more modern look and improved drive feel without taking away from visibility and accessibility.

WHAT'S WORST: Nissan now needs to play catch-up with Honda's new CVT, which gives the 2016 Civic a more lively and peppy drive feel the Sentra's can't match.

MOST INTERESTING: A moonroof will be available in all but the Sentra's lowest trim because Nissan's metrics show that sunroofs and moonroofs are in higher demand in Canada than anywhere else in the world.
NEWPORT BEACH, CALIF. — The compact car segment is a bullring these days. With the new Honda Civic sedan getting rave reviews and a new Hyundai Elantra going on the market shortly, producing value-packed little cars at bargain-basement prices has become more important than ever.
Nissan has responded by giving the Sentra an extensive makeover that the company says took three times their usual investment for a mid-cycle refresh. Here are some of the most important changes and how they make the Sentra stack up versus the competition.
RELATED: 2016 Honda Civic Review 
LOOKS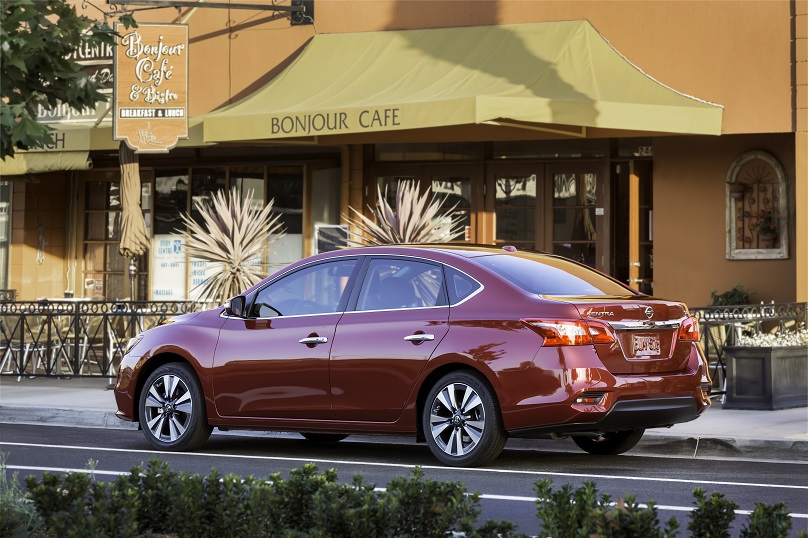 I overheard someone use the term "Small-tima" to describe Sentra's new look — and it's apt: External styling is now much more in line with the larger Altima and the rest of Nissan's family of sedans. With a new front and rear fascia, grille, fenders, hood, and boomerang-shaped headlights and taillights, the changes go a long way toward making the Sentra more visually appealing.
POWERTRAIN
This is one thing that hasn't changed with the Sentra's facelift. It still comes with just one engine choice, a 1.8-litre inline-four that makes 130 horsepower and 128 lb.-ft. of torque. It can be mated with either a six-speed manual transmission or a CVT, the latter being Nissan's newest generation with D-step calibration that simulates the feel of traditional gear ratios.
In terms of straight power-to-pavement feel, the new Civic has the Sentra beaten, particularly in passing manoeuvres and highway merges, but I'd still rank Nissan's CVT in the top three on the market right now for daily livability.
DRIVE FEEL
The drive feel in the Sentra is greatly improved, thanks to a new heftier steering wheel, inspired by the latest 370Z, and tightened steering calibration that's precise and responsive. The retuned front and rear struts and shocks and new rear bushings come through to make the car feel much steadier and more planted on rough roads.
INTERIOR
Updates inside are less pronounced, yet the most important one can't be seen: Sentra's cabin is now far quieter due to more extensive use of soundproofing materials.
A six-way power adjustable driver's seat with lumbar support is now available at a lower trim level than in most of the competition. A new 5-inch LCD screen in the middle of the instrument cluster goes a long way in improving the dash layout.
One place where the Sentra benefits from its age is in visibility: newer cars like the Civic are losing window space as styling trends become more streamlined, which leaves the Sentra's greenhouse more open in comparison.
INFOTAINMENT
Most trims come with a 5-inch colour display with optional navigation, and Nissan's is nicer than most because it relies far less on touchscreen inputs. Important features like volume and tuning are on knobs and buttons and are all well within reach of even a short driver.
New infotainment features on Sentra for 2016 include: the NissanConnect system that adds auto collision emergency calling and smartphone interaction among other features (a SiriusXM subscription is required); online search; text messaging assist, and available Siri Eyes Free voice recognition.
For phone apps like Apple CarPlay and Android Auto, however, you'll need to look elsewhere.
SAFETY
Some safety technologies are now available on Sentra that are unusual finds in the compact car segment, including forward emergency braking, intelligent cruise control, and radar-based blind spot warning and rear cross-traffic alert.
PRICE
Sentra's base price is sneaking up by $300 for 2016 to $15,898, although that only brings it on par with the rest of the market. But value climbs considerably as you move higher in trims: an SV model with the luxury package, which includes navigation, blind spot warning, and rear cross traffic alert, heated front seats and mirrors, a back-up camera, Bluetooth, and hands-free text messaging is set to be priced at under $20,000.
Depending on which features matter most to you in a car, this could make the new Sentra one of the better value propositions in the segment.
Freelance writer Stephanie Wallcraft is a regular contributor to Toronto Star Wheels. To reach her, please email wheels@thestar.ca and put her name in the subject line.
2016 NISSAN SENTRA
PRICE: $15,898 to TBA ($24,398 in 2015)
ADD-ONS: Freight and PDI $1,600
TYPE: Compact car
PROPULSION: Front-engine, front-wheel drive
CARGO: 428 L
ENGINE: 1.8 L I4
TRANSMISSION: Six-speed manual, CVT
POWER/TORQUE: 130 hp @ 6,000 RPM, 128 lb-ft. @ 3,600 RPM
FUEL CONSUMPTION: 8.0 L/100 km city, 6.1 hwy (regular fuel)
BRAKES: 11-inch vented front disc brakes; 9-inch rear drum brakes standard, 11.5-inch solid rear disc brakes optional
TIRES: 16" or 17" available
STANDARD FEATURES: Not yet detailed
ACCESSIBILITY: Very good; seating position is higher than in some competitors.
COMPETITION: The Honda Civic, which starts at $15,990, has either a 2.0 L I4 that makes 158 hp or a 1.5 L turbo I4 that puts out 174 hp and has one of the better-feeling CVTs around. The Toyota Corolla starts at $15,995 and has a 1.8 L I4 that produces 132 hp but lags behind in drive feel.
LOOKS: Much more modern thanks to the updated grille and boomerang headlights and taillights.
INTERIOR: Quite nice for the segment with upgraded materials, good usability, and improved sound dampening, though there's still not a great place to stow away your phone.
PERFORMANCE: Just average; struggles for power in passing maneuvers and on highway on-ramps. Fuel economy is not the best in the segment, but it is competitive.
TECHNOLOGY: Lots of newly available safety feature offerings have been added, some of which are hard to find in the compact car segment.
RATING: For a mid-cycle refresh, the Sentra has seen significant improvement. Is it a Civic fighter? Possibly, depending on exactly which features are most important to the buyer.
WEBSITE:www.nissan.ca